Teachers - harpsichord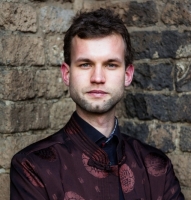 born in Prague, Ondřej studied playing the harpsichord in the class of prof. Giedré Lukšaité Mrázková and basso continuo with Vojtěch Spurný at the Academy of Performing Arts in Prague. He continues his studies as a Master of Music with Siebe Henstra at HKU Utrecht Conservatoire in the Netherlands. He has performed there in a production of Les Indes Galantes by J. Ph. Rameau as well as numerous orchestra and chamber music projects all over the Netherlands up to now. He studied organ with Reitze Smits and he specialized in modern harspichord repertoire under the coaching of Gośka Isphording. In 2016 he was awarded Honourable Mention of the Jury at Bohuslav Martinů competition in Prague, he also took part in the 2017 Prague Spring Festival International Competition, where he made it into the semifinals. By the end of spring 2018, Ondřej is involved in the production of Monteverdi´s Orfeo for the "J. K. Tyl" theatre in Pilsen.
He has toured with orchestras such as The Talich Chamber Philharmonia and The South Czech Philharmonic. He performs regularly with period music ensembles such as Amor aeternus, Musica Apollonica, Intermundia. In 2014 he recorded the Christmas concert show for the Czech TV with Ensemble 18+. He worked in three churches of Prague as liturgical organist, now his activities concentrate around two churches in Utrecht (Sint Antonius Gemeenschap and Holy Trinity Anglican Church).
more