back to Harpsichord
Ondřej Kryštof Bernovský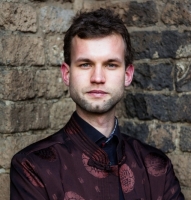 He is active in chamber music formations, currently playing spitirual Baroque music in Amor Aeternus, 17th century instrumental music in Picchi and the Semicrotchets, and PLOC ensemble at Utrecht Conservatoire. In duo field, his regular partner is early flute player Antje Becker, with whom he has already performed in Germany, Austria and Finland under the name Due Oratori.
His first instruments were the recorder and the piano. He started playing the harpsichord under the leading of Ilijana Nikolova, age 13, then he studied organ with Michelle Hradecká and Pavel Černý, gradually specializing in early music. He takes part in various workshops and masterclasses with renowned artists such as Christophe Rousset, Elizabeth Joyé, Christoph Bossert, Ton Koopman, Edoardo Bellotti, Skip Sempé, Babara Maria Willi, Alena Hönigová and Marieke Spaans, thanks to organizations such as Piccola Accademia di Monitisi and European Mobile Baroque Academy.
Apart from playing keyboard instruments, he is interested in early ensemble singing. He regularly takes part in workshops of chant and early polyphony led by Rebecca Stewart. He worked as artistic leader of Vokáklub SONS choir comprising unseeing aficionados. As quick-witted repetitor he performed in the numerous projects of the Vivat flauto recorder ensemble and various music schools.
Ondřej plays his single-manual harpsichord after Joannes Ruckers (Antwerpen, 1627), made by Czech harpsichord workshop Jan Bečička & Stanislav Hüttl & Petr Šefl. The focus of his research project are trios of Classical era composer František Xaver Dušek, which will be published in modern edition.
back to Harpsichord