back to Piano
Tomáš Klement, BMus MA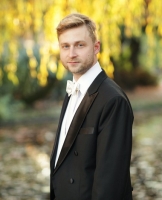 Tomáš Klement, BMus MA is a soloist and a chamber musician who has performed concerts in the Czech Republic, Germany, Italy, Poland, United Kingdom, and the USA. He has appeared numerous times as a soloist with the Janacek Philharmonic Orchestra (Czech Republic), Bristol Metropolitan Orchestra, Helios Chamber Orchestra (UK) and several of his performances have been broadcast on Czech Television and Czech Radio 3, for which he made several recordings. He performed as a soloist during with the Novello Orchestra during the UK portion of the La La Land "Live in Concert" world tour.
In 2014, he released a critically acclaimed debut solo album of Beethoven, Ravel and Slavicky under the EITO Music label.
He works closely with composers – he recorded music by Daniel Elms at the Abbey Road Studios in London, and performed some of his music at the New Music Biennial, held at the Royal Festival Hall in London. Additionally, he was invited to perform a series of new music recitals to mark the 50th anniversary of the assassination of Martin Luther King, premiering works by Hannah Kendall, Sadie Harrison and Andy Keenan.
He is also an active teacher. From 2011-2014, he was teaching undergraduate students at King's College London. He taught at the Wells Cathedral School (2014-2016), and has taught at the Royal Welsh College of Music and Drama since 2015. His students were prize recipients at several competitions.
He studied at the Janacek Conservatoire (Czech Republic) with Xenie Hranicka and the Royal Academy of Music in London, where he was the recipient of the Sterndale-Benett scholarship to study with Ian Fountain. He is a winner of prizes in several national and international piano competitions including the Oxford Music Festival Piano Competition, Lagny-sur-Marrne International Piano Competition (France), the National Intercollegiate Competition of Czech Conservatories, and the International Beethoven and the International Smetana Piano Competitions (Czech Republic).
back to Piano