back to Voice
MgA. Hana Medková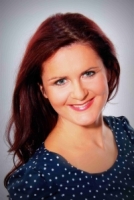 MgA. Hana Medková studied at Conservatory in Pardubice. Then she continued in her studies at VŠMU in Bratislava. Her singing abilities were enriched under M. Fidlerové-Sopirová, Nancy Henninger and Antonio Carangelo. She attended masterclasses under Andrej Kucharský, Evgenij Nesterenko, Gabriela Beňačková etc. Hana Medková is the laureate of international singing competitions (the competition of Czech conservatories, 1995 – the 3rd prize, Antonín Dvořák´s International Singing Competition in Karlovy Vary, 1996 – a honourable mention, and Jarmila Novotná´s prize, M. Schneidera-Trnavský´s International Singing Competition in Trnava 2002 – the 3rd prize and the scholarship for Alain Nonat and Franz Wolfkamp´s masterclasses.
After finishing her studies she was performing as a guest in Slovak National Theatre in Bratislava, State Opera Prague and in Moravian Theatre Olomouc. She actively performs at concerts and festivals in the Czech Republic and abroad, cooperates with orchestras: Slovak symphonic orchestra, Chamber symphonic orchestra Pardubice, the Symphonic orchestra of Hradec Králové, Wroclawska Orkiestra Kameralna Leopoldinum, Solamente naturali etc.,with Czech and foreign conductors (V. Kiradiev, J. Glower, S. Bevier, O. Kukal, K. Kevický, S. Dinyés etc.). She specializes in chamber music. Her wide repertoire ranges from baroque to contemporary music.
She is a teacher and the head of the Voice Department at Conservatory in Pardubice. Currently she has been studying the doctoral programme at the Faculty of Art at University of Ostrava.
back to Voice