back to Chamber music
MgA. Jan Schulmeister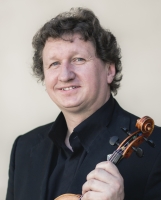 Violinist Jan Schulmeister, a founder member of Wihan Quartet, was born on 5th February 1964 in Olomouc into a very old musical family with 150 years of music tradition. This tradition began in the first half of the 19th century when his great-grandfather František ( Antonín Dvořák´s classmate and friend under H.Liehmann in Zlonice) became a bandmaster in Olomouc. His uncle, violoncellist Prof. Váša Černý, was a concertmaster of Czech Philharmonic for many years and a teacher at AMU in Brno and Prague. He was also a founder and teacher of Janáček´s Quartet. The father of Jan Schulmeister was a violinist, teacher at P.J. Vejvanovský Conservatory in Kroměříž, his mother was a teacher of a sought-after singing.
In 1985 graduated Jan Schulmeister at P. J. Vejvanovský Conservatory in Kroměříž and in 1989 at AMU, Prague. When he was 17 he founded string chamber orchestra at Conservatory in Kroměříž and led it for four years (1982-1985) until he started attending AMU in Prague. There he became a founder member of Wihan´s Quartet in 1985. He studied under Prof. Antonín Kohout, the violoncellist of the Smetana Quartet, finishing his studies in master class at Munich Academy of Music under prof. Heinz Endress (1990-1992).
In 1987 Jan Schulmeister together with Wihan Quartet won a competition of music academies in former Czechoslovakia, the second prize at national quartet competition of Ludwig van Beethoven in the same year. In 1988 the quartet won international quartet competition "The Prague Spring Festival" and in 1990 became the winner of international competition of chamber orchestras in Trapani, Sicily. In 1991 the quartet won first prize and the audience prize at International String Quartet Competition in London, which was their most remarkable success. The foreman of the jury was Lord Yehudi Menuhin. Winning this international competition supported and developed the quartet´s international career. In 1996 the Wihan´s Quartet won the bronze medal at Osaka chamber music Festa.
Jan Schulmeister attended many international courses (Munich, Basel, Paris, Hannover). Since 1992 he has been cooperating with Prof. Hatto Beyerle, a founding member of Alban Berg´s Quartet.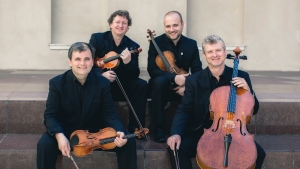 The quartet has recorded more than 40 CDs since 1990 with two dominant recordings of Beethoven quartets. The first recording, Lotos (1996-2
004) is a studio recording, the second one is a live recording of this work in Prague, 2008 (Nimbus Alliance). Besides those two recordings Wihan Quartet recorded string quartets of Haydn, Mozart, Schubert, Dvořák, Smetana, Wolf, Pfitzner, Tanějev, Rachmaninov, Janáček, Šostakovič, Schonberg. Wihan Quartet recorded 24 capriccios of Niccola Paganini in transcription for string quartet by American violinist and composer William Zinn in a world premiere (Nimbus Aliance). Many recordings gained national and international awards.
Jan Schulmeister performs in Europe, USA, Australia, New Zealand, Japan etc.
Since 90s he is pedagogically active, mainly in Great Britain, where he cooperates with Pro Corda Company. This company organizes chamber music courses in Leiston (Suffolk), where he regularly teaches since 1992. As a member of Wihan Quartet, that is a quartet in residence of Trinity College of Music in London, he has been a pedagogue in there. His name is also connected with chamber music master classes at universities in Manchester, Birmingham, Bristol, Cardiff and Menuhin School of Music in London. He has been cooperating intensively with Cavatina Chamber music trust since its foundation. He is promoting chamber music in a way of concerts for many schools in London and other cities as well. Jan Schulmeister together with Wihan Quartet was nominated for Royal Philharmonic Society Music Awards for three times for its contribution in the field of pedagogy and interpretation in Great Britain.
In 2006 he and his wife (a pianist Martina Schulmeisterová) recorded a CD with the Bach organ trio sonatas (BWV 525 – 530) in transcription for a violin and a piano by Ferdinand David in a world premiere.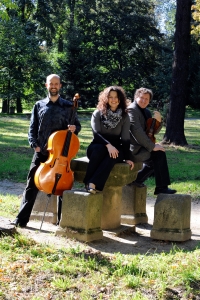 Jan Schulmeister founded Petrof Piano Trio in 2009 (together with his wife and a violoncellist Kamil Žvak, both teachers at P. J. Vejvanovský Conservatory in Kroměříž) that became a resident trio of PETROF Company, the oldest and most popular Czech producer of grand pianos and upright pianos. He recorded his first CD for this company in 2010 (Haydn, Schumann, Brahms – piano trios). The next CD with piano trios of W.A. Mozart, Josef Suk and Antonín Dvořák came out in 2011.
Jan Schulmeister also contributes to music magazines (Opus musicum, Hudební rozhledy).
back to Chamber music