back to Chamber music
MgA. Pavel Nikl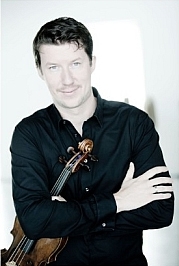 In 2002, a chamber music began to be his main interest. He is one of the founders of Pavel Haas Quartet (a string quartet). This quartet have gained remarkable international acclaim for its concert and recording activities. Since its foundation the Quartet cooperated with Milan Skampa, the legendary violist of the Smetana Quartet.

MgA. Pavel Nikl occasionally studied under prominent international musicians focusing on quartet chamber music such as Walter Levin (LaSalle Q.), Piero Farulli (Q. Italiano), Norbert Brainin (Amadeus Q.), Hatto Bayerle (Alban Berg Q.), Valentin Berlinski (Borodin Q.), Christophe Coin (Q. Mosaiques) etc.
Winning the Prague Spring Competition and Premio Paolo Borciani in Reggio Emilia (Italy) in 2005, Pavel Haas Quartet has established itself as one of the great chamber ensemble sof today.. The Quartet performed at the world´s most prestigious concert halls: Konzerthaus Wien, Mozarteum Salzburg, Concertgebouw Amsterdam, Palais des Beaux-Arts Brusel, Tonhalle Curych, Herkulessaal Münich, Berlin Philharmonie, Cologne Philharmonie, Symphony Hall Birmingham, Wigmore Hall London, Carnegie Hall New York etc . It also performed at festivals in Aldeburgh, Edinburgh, Zeist, Verbier and it toured Europe, Asia, USA and Australia.
Pavel Haas Quartet exclusively records with Supraphon. The Quartet has gained the most prestigious European prize Gramophone Award for four times including the recording of the year and it also won Diapason d´Or de l´Année and the BBC Music Magazine Award.
MgA. Pavel Nikl works as a teacher as well and within the activities of Pavel Haas Quartet taught at universities in Europe, USA and Australia.
back to Chamber music