back to Piano
MgA. Hana Vlasáková-Berger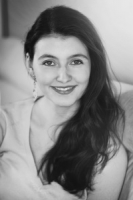 MgA. Hana Vlasáková has been surrounded by music since her childhood. Her mother the pianist Prof. Alena Vlasáková inspired her by playing piano games with her. At the age of four she was accepted to study at the Music School of the capital city of Prague under Zdena Janžurová. Then she continued her studies at the Jan Neruda Grammar School focused on music under Růžena Učňová and also at AMU in Prague under doc. Dagmar Šimonková within her pedagogical practice. At that time she started participating in piano competitions bringing her great success (for example the 1st prize in Competition in Kyjev) and performing regularly (for example the live broadcasting on the Czech Radio Vltava).
From 1999 to 2005 she studied at the Prague Conservatory under prof. Eva Boguniová, then gaining her bachelor and magister degrees at AMU, Prague under Prof. Ivan Klánský. In 2013 she finished her studies in Meisterklasse at Hochschule für Musik "Carl Maria von Weber" Dresden under Prof. Arkadij Zenzipér.
She is the winner of several international competitions. Besides the competition in Kyjev she won 1st Prize in International Music Forum in Lonig (Italy) in 2003, in the same year the 1st Prize in a competition "Young Talents Competition" in Val Tidone, Italy. In 2006 she became the winner of international competition in Kauko Sorjonen Foundation in Jyväskylä (Finland), and in 2007 won a Competition for Young Artists in Viena. In 2009 she was the absolute winner in competition "21st Century Art" in Funchal (Portuguese). Hana Vlasáková develops her concert activities in the Czech Republic and abroad (Germany, Austria, Italy, Great Britain, Portuguese, Denmark, Finland, Turkey, Slovakia, Poland, Slovenia, Ukraine). As a soloist she has collaborated with Pilsen Philharmonic, The North Czech Philharmonic Teplice, Hradec Králové Philharmonic Orchestra, Dvořák Chamber Orchestra and Sinfonieorchester Emmendingen.
Since 2006 she has been dealing with piano pedagogy. Currently she is piano teacher at Hochschule für Musik "Carl Maria von Weber"and Landesgymnasium für Musik and Conservatory "Heinrich Schütz" in Dresden. She has been a guest in many seminars and educational programmes for teachers (e.g. EPTA, Prague).
back to Piano