back to Piano
MgA. Ondřej Hubáček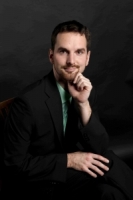 Ondřej Hubáček (* 25. 6. 1980 Zlín), the Czech pianist and pedagogue, the absolvent of P. J. Vejvanovský Conservatory in Kroměříž (2000); JAMU in Brno (2005), and at the same time the University of Leeds; the laureate of international competitions in piano improvisation: Beethoven´s Hradec (the Czech Republic, 1999); International Forum in Vicenza (Italy, 2000); Art and Education in the 21th Century (Denmark, 2001); Giovani Talenti, San Bartolomeo al Mare (Itálie, 2005). He was awarded the scholarship from YAMAHA Company in the same year and he was honoured by being on a Premier List of young artists of the Czech Music Fond in 2006.
He attended several courses of interpretation in many European countries.
He performs abroad as well as in the Czech Republic, cooperates with Czech Radio and Radio Slovakia and with the prominent Czech musicians (in chamber ensembles). Together with his wife Katarína Hubáčková he regularly performs in Ignis Piano Duo.
Among his favourite activities belongs transcribing of well-known compositions for different instrumentation. In that way, he offers completely new sound of well-known pieces originally composed for different instruments or voice.
Since 2004 he teaches at P. J. Vejvanovský Conservatory in Kroměříž. Many of his students are the winners of international piano competitions. Ondřej Hubáček has been awarded for his pedagogical activities. As the most successful teacher he received Carl Czerny award at 12th European Grand Prize of Music Mendelssohn Cup (Italy, 2012). He is honoured to be invited to be a member of jury in international competitions. Since 2008 he has been organizing fellowships for his students in the Czech Republic and abroad e.g. Norway (Bergen), Italy (Bari, Lecce), Cyprus (Larnaca).
Since 2010 he has been teaching at International Courses of Interpretation in Zábřeh.
In 2009 he founded Camerata Cremsiriensis chamber orchestra with his students among its soloists.
back to Piano