Teachers - violoncello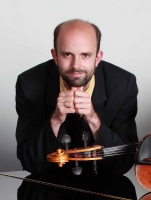 He started to learn violoncello at the age of six under Mrg. Zdeňka Pimková. Then he continued his studies with the same professor at P.J. Vejvanovský Conservatory, Kroměříž, finishing his studies at AMU, Prague under prof. Miroslav Petráš.
He attended many courses and competitions in the Czech Republic and abroad. After graduating at HAMU he was a member of the Prague Radio Symphonic Orchestra and teacher at Music School in Hostivař. Since 2010 he has taught at P.J. Vejvanovský Conservatory, Kroměříž.
In 2009 he founded Petrof Piano Trio together with Jan Schulmeister (violin) and Martina Schulmeisterová (piano). The trio performs in the Czech Republic as well as abroad. Petrof Piano Trio has recorded 5 CDs so far. Kamil žvak is also a member of chamber orchestras Moravští komorní sólisté, Camerata Cremsiriensis etc.
He has been playing Tomáš Haškovec´s violoncello from 2003.
more